Constant movement "makes them look!"

Sky Ticklers make them look with their movement and your message makes them stop and buy. Sky Ticklers work to grab attention in a positive way, displaying a colorful and wild movement with their outstretched tentacles reaching for the sky. You simply cannot resist looking in their direction when they catch your peripheral vision, and that's when you notice the special sales event or service.
Available in 18' and 28' tall styles with your choice of colors (see color samples below). Let our design team add your logo or artwork for an even bigger impact.
The high-performance fan rushes fresh air up and through the industrial coated nylon material Sky Ticklers, keeping a consistent fill so they can "stay alive."
Complete system arrives with Sky Tickler and High Performance Vortex Fan to keep it dancing. Sets up in minutes and will run continuously while powered.
Click on any of the gallery images for a larger view of Sky Ticklers.
Pricing and ordering information shown below.
CALL TOLL-FREE TO ORDER: 877-884-2402
email: contact@giant-inflatables.com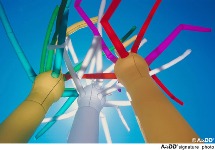 Color choices shown below, click on an image for a larger view, see pricing below:
Click on an image below for a larger view: